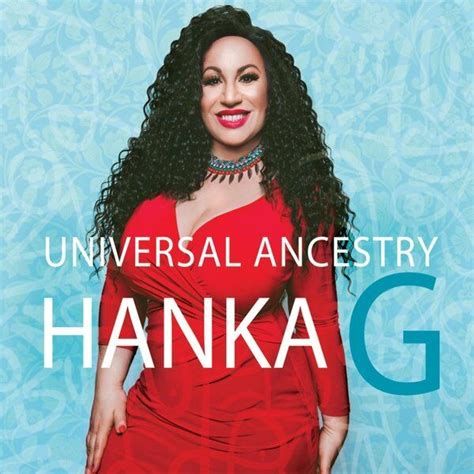 Release Date: August 5, 2022 
Artist: Hanka G 
Title: Universal Ancestry 
Label: Culture Bridge Records 
Universal Ancestry, the first U.S. release for Slovak Vocalist Hanka G, is a gem that is worthy of being heard. A strong diverse effort that incorporates some of New York's finest musicians. Universal Ancestry opens with a soulful cover of Whitney Houston's, All The Man I Need. Pianist and Organist Shedrick Mitchell's arrangement delivers a feeling that is a mix of Whitney Houston meets Joe Sample and Brian Blade's Fellowship. The mood is an excellent pallet for a sultry delivery from Hanka G. with a stirring guitar solo by Sherrod Barnes, this Houston rendition is one of the best in many years.
Once the opening concludes, Hanka presents an honest, passionate, and reverential rendition of Walter Hawkin's  Be Grateful. Mitchell's superb arranging skills, masterful keyboard work, and the interplay between drummer  Nathaniel Townsley and bassist David Ginyard, Be Grateful delivers a solemn tone. These elements help Hanka G. paint a truly worshipful and soulful performance that is nothing short of heavenly. Comfortable in various genres, Hanka G takes the Chaka Khan staple, Through The Fire and truly makes it her own. The composition opens with a  fusion inspired latin-tinged intro that has pianist James Hurt laying down a funky montuno, while drummer Teru Alexander and bassist Rahsaan Carter lay down a groove so tight that it fits like a glove. Hanka skillfully weaves her melodies through this dense groove with a soulful sophistication reminiscent of Phyllis Hyman, one of her influences. 
An artist is a product of their environment and experiences. Hanka G's ancestry and growing up in the Mongolian Desert with her geology professor parents, coupled with her migration to the United States in 2016 has shaped a heck of a vocalist. In her own words, "My latest project was framed through the lens of an immigrant in the USA trying to unite people with different musical heritages. Regardless of our backgrounds, we all dream about love, happiness, and freedom." Hanka G's openness to new people and experiences has produced an artistically rich and sincere effort. 
Reaching back to her childhood, Hanka presents Slovak folk tunes, Dance Dance and  I am Such A Pretty Girl within a jazz context. On Dance Dance, The guitar work of Marvin Sewell and background vocals of Keesha Gumbs and Terrelle Tipton help contribute to an ethereal backdrop for Hanka's haunting vocals.  Kudos to pianist James Hurt for arranging these songs in such a convincing fashion. On I Am Such a Pretty Girl, Hurt lays down a rhythmic canvas for the masterful improvisational work of saxophonist Antoine Roney as well as for his own.
Hanka G is unafraid and unashamed to draw from her past. So it was a no brainer to incorporate compatriots flautist Sisa Michalidesova on Pharaoh Sanders As You Are and Veronika Vitazkova (fujara- traditional Slovak flute) on Slovak folk song Bird Has Started Singing. These two songs add uniqueness to Universal Ancestry. 
Hanka G is fearless in branching out and giving her all. She is confident and honest in her delivery. Two songs where this is very evident are Donny Hathaway's, Someday We'll All Be Free and Abbey Lincoln's Throw It Away. Pianist Rodney Kendrick sets the mood for Hanka G to pour her soul into Throw it Away, and conjures the spirit of Ms. Lincoln, artistically. Another feel good swing number from the project is the jazz standard Them There Eyes, which has a live jazz club feel. As a seasoned professional Hanka G delivers an honest and passionate presentation of art. Kudos to everyone who worked on this project, it is special and must be heard. Universal Ancestry is definitely a must have for 2022.